f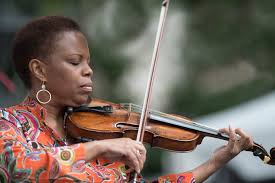 After a bit of an absence from the recording studios, the perennial poll-winning violinist, MacArthur Foundation "genius" award recipient, and one of the finest people in contemporary music, the incandescent violinist Regina Carter has a brand new release. In keeping with these roiling times, thematically Regina's new release "Swing States" takes her social justice message to the election booth. With a unique cast of musicians that includes trumpeter John Daversa, pianist Jon Batiste, Alexis Cuadrado and Kabir Sehgal on bass, and the great Harvey Mason on drums, Regina stresses the extreme importance of what some have termed the most important election in our lifetimes, the 2020 Presidential election.
Fresh off a splendid duo performance with her spouse, drummer Alvester Garnett, as part of DC JazzFest's recently concluded virtual series Live From Our Living Rooms, comes "Swing States." Clearly some questions were in order for Regina Carter, a true virtuoso musician and someone whose career arc this writer has had the pleasure of observing since her early days in the Detroit-centric all-woman ensemble known as Straight Ahead.
It's been about three years since your previous release, your tribute to Ella Fitzgerald "Ella, Accentuate the Positive." What have you been doing in the interim in terms of planning your next release?
The most difficult part for me in making a record is deciding on the message or subject, as most of my projects are theme based, highlighting matters that are significant to me. I had been
researching music and materials for a couple of ideas but the "Swing States" project was a priority.
Talk about your motivation behind this new release, "Swing States" and the social justice implications of this project, and how you chose the repertoire to perform on this date.
A friend and I were discussing how dark and divided the country has become and the topic came up about voting and those who choose not to vote.
When my brothers and I were children, my parents instilled in us the importance of voting and made sure we comprehended the fact that many people were beaten, killed and hosed while marching for the right for Black people to vote. Before each election, I remember my parents researching and discussing the candidates running and the issues. Voting was not an option in our household.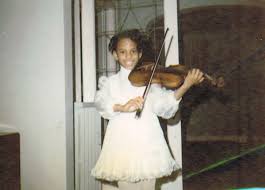 That conversation sparked the idea for this project, "Swing States".
How did you go about assembling your Freedom Band to make this new recording?
I had a little help from my friends (smile). I collaborated with a few of the musicians on other projects and also thought it would be interesting to team up with some other swing state artists.
"Swing States" seems like quite the timely project, given all that is going on in this country in the wake of the George Floyd police killing. But clearly this is a record you've been planning and working toward well before our current social justice reckoning. What are the implications for this project with all that is going on here in summer 2020?

Voter suppression, especially in African American communities, racism and Black people being disproportionately killed by police are not new injustices in this country and the racist rhetoric spewed by the current occupant of the White House has played a role in encouraging violence. It is extremely important for ALL of us to be vigilant, educate ourselves about issues and exercise our right to vote, especially now; not knowing or caring about our core freedoms is the fastest way to lose them.
Forced to stay home for months during the pandemic and being glued to the news, everyone witnessed a huge dose of the ugliness and inequities of this country in full display.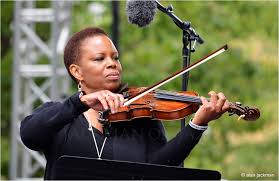 Ultimately what do you hope your listeners will take away from experiencing this "Swing States" project?
I hope people will enjoy the music but I also hope it will inspire people to vote.
We recorded arrangements of several state songs from places that will ultimately determine the 2020 election; (Georgia) "Georgia On My Mind", (Florida) "Swanee River" and "Dancing in the Street", (Michigan) that became an anthem for the civil rights movement.
In light of the pandemic it may be a minute before you're able to tour this work. However based on your high class duo presentation with Alvester Garnett during the recent DC Jazz Festival/Live From Our Living Rooms series, you seem quite comfortable performing online in the virtual realm. Do you get a sense that we'll be in this virtual performance mode for some time to come, and if so how do you plan on working in this mode going forward?
Thank you, we had a great time performing at the festival! I'm thankful the online platforms exist so artists, venues, etc. can earn some income during this period. It is an odd experience though, performing in front of a computer, not seeing anyone or feeling the audience's energy. That exchange that happens between performer and audience is crucial, but for the time being, performing virtually is our reality and I think it's going to be this way for some time, unfortunately. Because the virtual platform is a world stage, we can't present the same project every appearance as if on tour, artists have to be creative in what we present each time and that's an exciting challenge.
https://www.npr.org/2020/05/13/855433732/regina-carter-and-alvester-garnett-alone-together-duets